You are here
Tom Clancy's Op-Center: Call of Duty: A Novel (CD-Audio)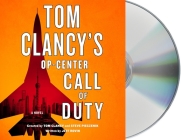 $39.99

Usually Ships in 1-5 Days
Description
---
In Call of Duty, this race-to-the-finish thriller in the bestselling Tom Clancy's Op-Center series, an attempt to exfiltrate a Chinese scientist threatens to incite a full-fledged war between China and the United States.

When the launch of their powerful new hypersonic missile ends in destruction, the Chinese government needs someone to blame. Was it a failure of engineering, or sabotage? The chief engineer on the project, Dr. Yang Dàyóu, is targeted as the scapegoat and arrested—unable to help his family as they are hunted down by the military.

Op-Center's Lt. Grace Lee is sent to China on a solo reconnaissance mission, but when she sees an opportunity to free the imprisoned scientist, she seizes it. With Lt. Lee on the run and the Chinese military at her heels, Director Chase Williams sends the rest of Op-Center to Mongolia as an extraction team. Meanwhile, Dr. Dàyóu's son has aligned himself with a dangerous group of counterrevolutionaries hellbent on dismantling the Communist regime, putting his father's life—and his own—in jeopardy. The Black Wasp team races to rescue their colleague and her high-risk companion without setting off an international incident that leaves China ready to release their greatest weapon yet.

A Macmillan Audio production from St. Martin's Press.
About the Author
---
JEFF ROVIN is the author of more than 150 books, fiction and nonfiction, both under his own name, under various pseudonyms, or as a ghostwriter, including numerous
New York Times
bestsellers and over a dozen of the original Tom Clancy's Op-Center novels.
Tom Clancy's many thrillers include
The Hunt for Red October, Patriot Games
and
Clear and Present Danger
. He died in 2013.
Steve Pieczenik
is an author and co-creator of Tom Clancy's Op-Center series.
Jeff Gurner is a voice, stage and screen actor. He has recorded hundreds of radio and television commercials, video games, and is an award winning audiobook narrator. He is best known for his narration of Patrick Lee and to Karen Miller's The Star Wars Clone Wars series and works by Mark Sullivan and Terry Francona. AudioFile magazine praised Jeff''s "deep, compelling voice and well-acted presentation" and awarded him a 2006 AudioFile Earphones Award for Jennifer Egan's The Keep.

Gurner's theater credits include The Lion King on Broadway, Guys and Dolls, Harold and Maude: The Musical, and A Christmas Story. Television credits include The Good Wife, Mercy, and Law & Order.