You are here
Gray Malin: Italy (Hardcover)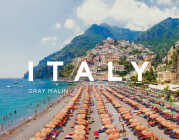 $45.00

Usually Ships in 1-5 Days
Description
---
New York Times bestselling author Gray Malin turns his unique photographic eye to the coasts, beaches, and landscapes of Italy. From the sparkling blue waters of the Amalfi Coast to the dramatic coastal scenery of Cinque Terre, Gray Malin: Italy captures and celebrates in photographs many of the country's most famous and beloved destinations.
"Gray Malin is renowned for his dreamy photographs from around the world, which would inspire wanderlust in even the deep-rooted homebody." —Fortune
Inspired by Malin's bestselling photographic series
La Dolce Vita
,
Gray Malin: Italy
highlights timeless details of the Italian coasts: happy beachgoers, retro beach umbrellas, luxury motorboats, and of course, the sun-soaked water. Whether you've spent vacations in Italy since childhood, have made just one trip (that "trip of a lifetime"), or simply dream of lounging on an Italian beach on your next great travel adventure, your desire for sand and sea and the good life that Italy provides will be ignited by Malin's spectacular photography. Chapters include:
La Dolce Vita
Amalfi Coast
Capri
Cinque Terre
Lake Como
Puglia
Sicily
Tuscany
Portofino
Featuring never-before-seen, -published, or -privately-sold images,
Gray Malin: Italy
beautifully depicts the incomparable scenery and enviable lifestyle that the Italian coastline has to offer. It brings the good life of Italy to anyone's living room, beach house, or coffee table. Malin writes in his introduction, "For me, Italy is an ice cream cone on a hot day in July—nearly impossible to resist, and when finished, you're still craving more. . . . This book is the story of my love affair with Italy."
About the Author
---
Gray Malin is a fine-art photographer and the New York Times bestselling author of Beaches, Italy, Escape, A World of Opposites, Be Our Guest!, and Gray Malin: Signed Collector's Edition. His work hangs in homes across the world and can be found in both private and public collections. He lives in the West Hollywood area of Los Angeles with his husband and dog.