You are here
Eraced: Uncovering the Lies of Critical Race Theory and Abortion (CD-Audio)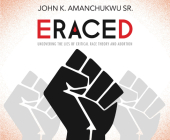 $24.99

Call store for availability status
Description
---
John K. Amanchukwu Sr. is a rising voice exposing the racist ideologies of abortion and critical race theory. In Eraced, he exposes the evil plot of the liberals to destroy the Black community and divide the church, and provides sound biblical truth to help Christians understand these complex issues.

Tucked in the Old Testament book of Isaiah is a warning meant for ancient Judah, but it might as well have been written for twenty-first century America: "Woe to those who call evil good and good evil, who put darkness for light and light for darkness" (Isaiah 5:20).

Abortion and critical race theory are twin evils born of the same diabolical monster: racism. And yet, there are many in the church who want to call them good, even as America begins to unravel under their influence.

In Eraced, John Amanchukwu Sr. dispels the myths surrounding abortion and critical race theory, and uncovers the Left's sinister plot to destroy the Black community and divide the church.

Along the way, he brings to light important gospel truths to help all believers learn to think biblically about some of the most important and explosive issues of our day.
About the Author
---
John Kanayochukwu Amanchukwu is a graduate of North Carolina State University, where he played football under Coach Chuck Amato. John received a master's degree from Liberty University in Christian Ministry. He has been a youth pastor for fifteen years. Over the past four years, John has led a 40-week prayer walk for Love Life at one of the busiest abortion clinics in the Southeast. He has been married to his wife Crystal for 14 years, and they have three children.